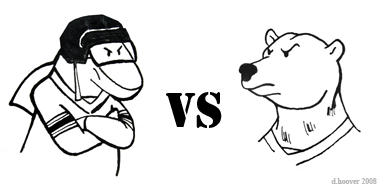 Tonight @ 7:30 Radio, TV, Tank
Ah Wild, what is it about you that makes me dread watching you? I suppose it's that despite being a pretty decent team, you're boring. So very very boring. This year, you've struggled. Fewest goals scored in the West. Make the Sharks offensive problems look like a cake walk. You currently sit in 11th place, but you're not totally our of the mix just yet.
Backstrom is a good goalie, and since the Tank has the power to turn rival goalies into gods, (Cylons?), he makes me nervous. Nabby should provide a good counter, assuming he's kicked the flu bug. If not, then in Boosh we trust.
It's black armor night tonight and it always gets a little rowdy when Owen Nolan is back in the Tank. Look for it to be fairly amped in there tonight. I don't think we'll see our newly acquired quackers in the mix, but if we do, be sure to give them a warm welcome. (and I don't mean a Bronx cheer)
UPDATE:
WTC
has the full low down, but to sum up: Nabby out, new guys out, one because he's celebrating a new arrival and the other due to injury. McGinn is up from Woostah.
Greiss called up to backup Boosh.
In Boosh we trust.