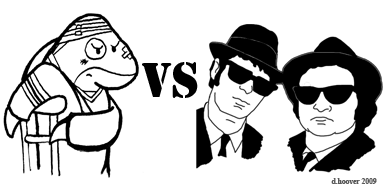 Tonight @ 5:30pm Jake and Elwood take to ice in a class of titans. Or, you know, a hockey game. It will be one of the two.


Will we have Nabby tonight? No idea. What I do know is that this game is on CSN+, which means I can't watch it on the TV and it's not on Yahoo! Bummer. Basketball and hockey seasons shouldn't clash. In my dream world, all Sharks games would be on a channel I can watch with regularity. Though in my dream world I could probably afford digital cable thus negating the need to show all games on CSNBA. Man, even my dreams dash my dreams. Brutal!

Anyway, this one should be epic folks. The last three games against the Blue this season have been back and forth affairs, two of which featured the same 5-4 decision in favor of the Sharks and the latest of which saw the Sharks go down in a shootout 3-2.

Legace is a beast. We mean that in the best possible way.

Turn on (your TV), tune in (to this game), drop out (of your social engagements).

---

Speaking of dropping an "Overheard at the Game" should be coming your way soon. I want to do one for the Canucks game we witnessed at Stanley's this past Saturday, but I can't recall any of the quotes I thought were worth using. If you were there, and you have a few, toss them our way. Much obliged.

---

How to recap this game?

I don't even know.

We've covered all the Sharks current problems. We'd just be repeating ourselves if we tried to note what was wrong and right with this game. Very little was right, by the way, though the first wasn't bad.

We're not down and out, but as fans we are confused. Is our team becoming last season's Sens, or is this just the storm of adversity before the calm of success? Whatever it is, we'll be here, watching and cheering and continuing to hope for the best while complaining about the worst. we're Sharks fans after all. Where would we be without our penchant for over reaction?