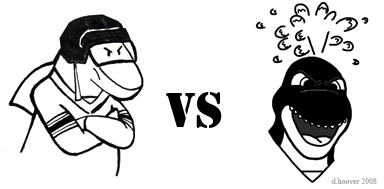 Fin. Still terrifying.

Tonight @ 7pm. Radio, CSN+ (followed by CSNBA after the basketball game), Stanley's
After the run of disappointing games, Sharks fans are left scratching their collective heads. Bruins fans are probably doing the same thing. What is going on? We don't know. There's no need to make excuses though, it is what it is. The only people who can change things are the players. To quote my favorite live action interpretation of a 90s movie "Are we going to jump, or jerk off?"
So there it is, Sharks. Are you going to step up to the immortal words of Johnny Utah, or are you going to stay in that plane, and forever wonder what could have been?
Post Game Recap:
Apparently the Sharks decided to stay in the plane tonight. Maybe they couldn't settle on which parachute to use.
I don't know what to critique because so much went wrong. Nothing was working nothing was connecting, nothing was happening. So many times I'd see the Canucks speed back to get the puck behind Boosh. Where were the Sharks? Leisurely skating up the ice, no real urgency. Joe gets a breakaway and STOPS to wait for everyone else to enter the zone. I understanding wanting some help if you get a rebound, but Joe, seriously TAKE THE SHOT. You had it. Not saying it would have gone in, but that non move set all of Stanley's into a frenzy of frustration.
There was a lack of going to the net. There was a huge lack of shots. I don't really know what's going on other than the Sharks seems to be spending way too much time in their own zone and chasing the puck.
Blake got hurt. Not good.
Boyle looked pissed. It's good to see the emotion, but he can't be the only one showing it. Murray had a good game. Credit where credit is due.
Seto man, I like you but you need to be a little less fancy. That was one fancy deke too many my friend.
The Sharks seem to have reverted to their old, tired, bad, habits. Now, it's up to them to get past it. The Todd has given them the knowledge and they have the ability, they just need to remember that.
I won't even touch on the penalties.
I don't know what you need put in your water, Sharks, but you better start adding it in massive quantities. Tonight was a GREAT chance to move ahead of Detroit, Thursday was too. You blew both chances. Games in hand only matter when you win them.