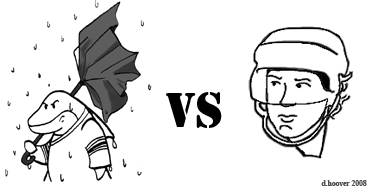 Tonight @ 5:30pm. CSN+ (Warriors are coming out to play, apparently), Radio
Blake could be back. JR could be back. Patty stayed home to help welcome his second child into the world (no word on that yet as of 7:42am on game day)
Ah, Chicago. A stalwart opponent. That first game against them was a high scoring affair that lead to a Sharks win. The second game saw the Sharks win in a more tightly contested bout. The third game saw the Sharks fall and if I remember correctly, play rather miserably. A likely playoff opponent, should the Sharks have the good fortune to move past round one, it's imperative that they Sharks win this game and send a late season message to each of the teams that stand a chance of facing. Also, winning helps us stay in the race with the Wings for the President's trophy. I hear that's kind of important.
1pm edit:
Marleau's second kid arrived today. They named him Brody. That's one of those names that assumes certain characteristics in my head, but I suspect our good Cap'n can steer his kids straight. Congrats to him and his family.
No Blake tonight. A FTFer in the comments at WTC asked after him and he apparently didn't make the flight.
WTC low down on this plus more,
here
.

Post Game recap:
I don't know if I have ever been this happy. to see the Sharks get a point. First period was puke. Second I listened to while making dinner and it sounded better. I think it ended 4-3 Chicago, which was a miracle after the craptaster (patent pending) that was the first.The third was up and down. The down being when the Hawks went up 5-3, and the up being when San Jose came back out of nowhere to tie that game with 2 minutes or so left. Jumbo comes through big time.
Ot was what it was. Lots of back and forth, couple good chance at each end, but that's about it.
Shootout was meh for the Sharks (Joe Pa nearly got on it but ohhhh,off the crossbar! Man) and killer for Chicago, but the point is what matters most. Stay tied with Detroit, and live to fight another day. Hopefully one that includes a better start to the first. This whole giving up an early goal in the first thing is wearing thin.