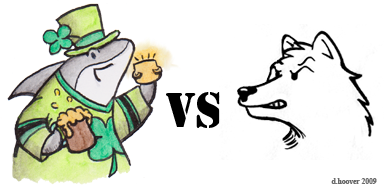 Tonight at 7pm, Radio, CSN+
,
and likely Stanley's for those looking to responsibily get your drink on

Our ire for Phoenix is well documented. It doesn't matter that the 'Yotes have fallen in spectacular fashion out of the playoff race or that they currently sit at the bottom of the Western Conference, we'll still be biting our nails during this game. The Coyotes always seem to give the Sharks trouble. People may wonder why I insist on believing that every team is dangerous, but it's because every team

IS

. Standings are nice on paper but it doesn't mean a slumping team won't have a good night here and there. The Sharks have been letting folks crawl back into the game and that has bit them in the butt more than a few times since the All-Star Break.

Both teams have been goal challenged of late with the 'Yotes managing only 18 shots total on Sat. The Sharks have been doing better shot count wise, but not goal count wise. That puck just won't go in the net! Talk about offensively challenged!

This is a must win for the Sharks who currently trail Detroit by

one point

for the lead in the West. The Red Wings play tonight as well. He's hoping Philly can take them down a notch and allow the Sharks to move back up a peg or three.



Mina edit

: WHY OH WHY DO WE ALWAYS HAVE TO PLAY PHOENIX??!?!?
Post Game Reaction:

I have no words for you. Only an image.