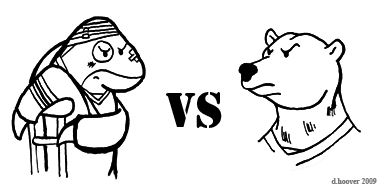 Battered, but not broken, the Sharks face off against the Wild
tonight at 5pm
Radio, CSN-BA, Stanley's

A do over of last Thursday perhaps? A day that saw the glorious real life meeting of some Fins, but the sad loss of the Sharks after going up 3-0 early on. Excitement tempered by sadness, faith tested by desire, stomachs tested by poor play after 1.5 periods. Luckily we had the intestinal fortitude to withstand last Thursday's disappointment. Hopefully our digestive tracks won't be tested tonight. We're still trying to digest Saturday's sad performance. It sits like a rock in our collective viscera.
Rest assured, my fellow Sharks fans, that we aren't the only ones. The team has had to chew on that loss since late Saturday night, and judging by the looks on some of the players facings both during and after the game, they are none too happy. They, like us, know they are capable of much better. The turn around starts now, mentally, even if it chooses not to manifest itself in physical form tonight.
The Wild need to be shown who's boss, and we know the best set of fish to do it in the great NHL sea are our Sharks. Let's toss a little extra chum in the waters to stir things up and set'um straight tonight boys!\
Post Game Recap:
Up 3-0, then 3-1, than its 3-2, the 4-2, then 4-3, then 4-4. It went to OT. Sound familiar?
Milan's goal was madness. So amazing.
Of course Nolan gets goals 400 and 401 against the Sharks. The Sharks like to give people records. Congrats man, but did you have to do that against your old team? Just saying...
Moen got his first goal as a Shark and what a beauty it was.
Again, goals go behind Boosh because the people in front of him aren't doing their jobs. Or, in the case of a certain game winning goal scorer, were a tad slow.
The Sharks owned the first and then spent the rest of the game chasing with bursts of own. That's getting really annoying. 60 minutes, foot on gas. 'Nuff said.
When this went to OT, every Sharks fan let out a groan of "NOT AGAIN!"
Randy Hahn nearly pooped his pants on Milan's amazing goal. Do find a replay, watch, and enjoy.
The Prophet Hahn also correctly surmised that many Sharks fans would have committed themselves if the Sharks had lost this one. So true.