Even now thinking about trying to recap it verbally exhausts me. I figured a night's sleep would give some perspective, and it did, but not enough to want to attempt to tackle such a beastly game. I will once again post my reaction from last night, in case you missed it.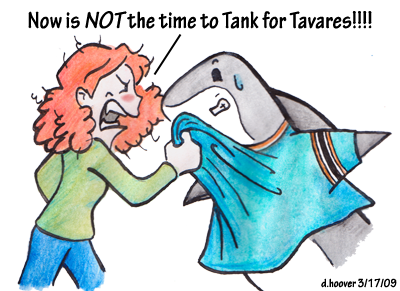 I had this thought part way through the game, and it stuck with me. While I know the Sharks aren't trying to tank, the idea of putting an amusing and absurd reasoning behind their recent slump was one that appealed to me.
It's not all bad. The Sharks did clinch the Pacific, which is nice. Now, however, we're at the point in the season when one's mind starts to wander and consider post season match ups. I'm not happy be second in the West. Not right now.I'd much rather the Sharks get their stuff together and pass Detroit, but that's an uphill battle. Everyone keeps mentioning games in hand, but, as I am fond of saying, those only matter if you
win them
.
Jaime Baker thinks maybe, just maybe, based of the majority of third period play last night, the Sharks will finally start to play desperate. That's what they've been needing to do for awhile now. Play with desperation. I know they're frustrated, but frustration doesn't win you games. Unless you can focus your energy into something useful, it will just mess you up.
Even our ever steady leader "the Todd"
wasn't mincing words
last night.
"There isn't a guy in there who should be proud of their first 20 minutes," Sharks coach Todd McLellan said.
"He[Nabokov] wasn't ready to play, either," McLellan said of his goalie.
Ouch, but true. Sorry to say.
It's rare to hear him be so frank about Nabby. Not to say he dances around the obvious, he doesn't, but he usually can find a positive way to spin a bad game. Not this one. This one was just BAD. Good for him calling it as it is. (This is not to say McLellan doesn't admit when their are problems. He does. He's honest, but not insulting. This tone was decidedly darker than normal for him, but I can't blame him for it. Plus, these are obviously the juicy quotes. I'd like to see his post game interview if anyone has it.)
The Sharks have a chance to make good on a terrible performance by showing us what they can do,
what we know they can do
, Thursday night against the Preds.