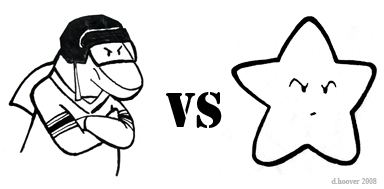 The Stars on are the verge of total collapse. They'll either go nova on the ice tonight, or continue to experience a resurgence in activity before run away fusion destroys them all in a giant supernova.
image care of Mr. Tyson' facebook page
Don't relegate them to the cosmic trash bin just yet. The Stars won their last game against Minnesota and the Sharks victory over Chicago was sloppy. This game has the potential to be flat out weird.
The game will be on CSN plus for those of you with digital cable, radio and, care of one of Mr. Plank's readers over at
Fear the Fin
,
here
as well. Big thanks to Mr. Plank and idunno723 for the live stream link.
Post Game:
Sharks win 6-2
Sharks had 6 goals on 30 shots while Dallas was held to 2 on 27. Cheechoo didn't play in the third, not sure what happen. Lots of Sharks fans at the game from the sound of things. Neither Mina nor I could get the stream to work, so we listened to the game.
Turco was pulled and the Star's backup Tobais Stephan played the 3rd, allowing 1 goal on 11 shots.
Boyle got 2 goals. I know I wasn't the only one hoping he'd get a hat trick.
Pavelski got his first penalty in 39 games. He also got a goal.
SJ had 2 PP goals.
Clowe was assist city.
Milan and Plihal also had goals.
3 Stars: Jumbo (3), Blake(2), Boyle(1) Clowe gets an honorable mention.
I'm really not too sure what to say about the Stars. They're falling apart at the seams and no one seems to know why. That has to be amazing frustrating for the players and coaching staff. You see problems, but you can't solve them.
Meanwhile, the Sharks are on a roll. Here's hoping the roll over the 'Yotes tomorrow.