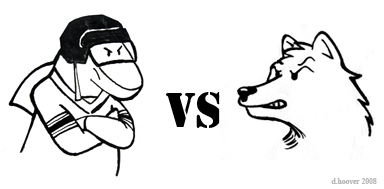 Post Game Recap: By Mina (who did not watch or listen to this game at all)
WHY MUST WE PLAY GAMES IN PHOENIX??!?!?!??!?!?!
The End.
Gray's Take, or Point, Counter Point. (yes, I've watched a lot of SNL reuns)
I was only able to listen to the first. It was slightly surprising for it to end 2-2, but I have learned to never count out Phoenix. The Sharks two goals were scored on the power play, by Boyle and Clowe.
I try to save my panic mode for the playoffs. The way I see it, no team can go 82-0. Every game has the potential for a loss, and every game has the potential for a win. Since sports is supposed to be something I watch to relax, I do my best to not needlessly worry. I'm not on the ice, nor am I a member of the coaching staff. I don't know all of what contributes to a loss, but I do know the players like it even less than we fans do. They work hard to correct mistakes, and it's a good thing for them, and their coaches, to experience the downside of things every now and then. (though, not too often, I hope ;) )
It's disappointing when your team loses but, losses happen.
But hey, 2 power plays goals! Silver lining, right?
Mina's Take II: The Revenge
BUT...BUT...WHY MUST WE PLAY GAMES IN PHOENIX???!?!?!ONE!!!
(Hey, this is kinda fun. I should do it more often.)