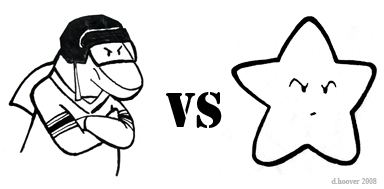 Second round rematch!
Well, not really. The Sharks are no longer under the command of Ron Wilson, so it's hard to call this a rematch. These aren't the same two teams who met in round two last season. The Stars are coming in off a win last night in Anaheim, though they haven't had the best start to their season. It's hard to say how this match up will go, as the Stars had been missing some key players until last night and that obvious affected their game play. I'm certainly not looking at this game with the same level of trepidation I had for the opener, but anytime you face a team that knocked you out of the playoffs for the first time in a new season, the stress level for fans creeps up a little higher.
---
Post Game:
First things first:
To the douchebag with the beer in the suit coat sitting behind and to the left of me: If I could have found the usher, I would have had you thrown out. You were nothing but an exceptionally annoying distraction for all of 228, parts of 227 and likely parts of 201. Believe me, people would have cheered.
To his high pitched friend: It's fine to cheer for your goalie, in this case Marty Turco, but when the puck is down at the other end of the ice, I really don't think he's had much to do with the play. Also, when cheering for Ott, please make sure he's on the ice.
Onto the game!
This was not the best game the Sharks have played. It was probably one of the worst. They were sloppy all game, never really kept control of the puck, and had a few very scary plays in front of their own net. Thankfully Boucher was up to the task, giving away only one goal. I trust Boucher in goal, far more than I trusted Greiss or Patzold last season. If the Sharks had gotten a loss, it would not have had to do with his play. He was solid all night.
I heard from the friend I was with who had teh portable interwebs with her that Drew was commenting on how quiet it was. It was very quiet, this is true. I have to believe it was because the Sharks were playing slower than usual most of the night. If they'd been playing like they had against the Pens or Detroit, they'd have mopped the floor with the Stars. Tonight was, for the most part, a rather lackluster affair. It had moments of excitment though, and the crowd would get back into it and start cheering.
That boarding penalty against Thornton was total BS. They showed the replay at the game, he wasn't doing anything illegal. Turco tripping him? Totally real, totally in front of a ref, totally not called. Ehrhoff's high stick was also not so much. Lost of questionable non calls going on. I'm not sure what game the refs were watching, but it was obviously different than the one I was at.
Marleau's goal, however, was a thing of happiness, and not just because it shut up the annoying high pitched Stars fan behind us. (he was annoying ALL GAME) Having only slept two hours the night before, I was not in the mood for overtime. Especially not overtime when the Sharks are having an off night. Mina put it best when she said that the Sharks are finding way to win games, sloppy or not.
Turco apparently though his crease was a porch because he wasted a good minute of game time sweeping ice out of it. He held up a face off to do this. This elicited a "YEA MARTY!" from squeaky boy behind us. I feel sorry for the Dallas fans he sits next to at home games.
Oh, I guess I should mention Avery. He was trying to be an annoyance, but when he kept ending up in the box because the sharks weren't biting he seemed to disappear. I'm pretty sure he was still playing, he just wasn't in anyone's face.
Clowe+fight = good stuff.
Goals by Boyle (who was fantastic all night) and Marleau
Dallas goal by Eriksson