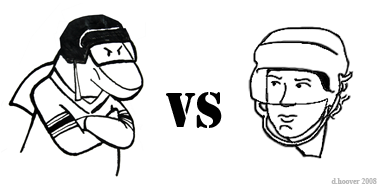 Don't forget to check out Fear the Fin's
open thread
during the game. Always amusing.
So, apparently, Campbell is worthy of Pronger level boos. Seriously? I'm really over him. He is representing the Blackhawks in the vs image above, but that's partly me trying to be witty and partly not knowing what else to do for the Blackhawks.
Dan Boyle is a better fit and arguably the better player. Still, it is kinda funny to listen to.

Post Game, mid game:
Strong first for the Sharks, strong second for the Hawks. Rob Blake scored at the end of the first to take the 1-0 lead into the second.
Toews capitalized on a hideous breakdown by the Sharks in the second to tie the game at 1-1. Is it me or are there a lot more 5 hole goals this season?
The Sharks may have controlled the punk all first period, but the second was all Hawks. The Sharks spent so much time in their own zone, I wasn't sure the other half of the ice still existed.
Grier got 5 minutes for boarding and a game misconduct. The hit was high and in the numbers. I'm not sure he meant for that or if he was trying to hit on the side, but either way, it was what it was.
Dan Boyle saves the day with an amazing save while flying into the net on his side. We seriously need to find a video of his save. Just wow.
The Sharks got a break from the 5 minute PK when Chicago took a hooking penalty.
Patty nearly scored on a out of position Khabibulin, but was stopped by a Hawks at the last second. Somewhere in the mass of insanity that proceeded Patty's chance, Khabibulin got hurt. The replay didn't make it clear how or what, but I suspect they'll give us updates as the game goes on.
Huet comes in and on the first shot, by Goc, the puck nearly trickles in. A Hawk was watching the puck and caught it before it rolled passed the red line. Marcel, seriously, keep an eye on that thing!
Sharks take a late penalty to go into the 3rd two men down.
I don't know how to describe the 3rd. Crazy, perhaps, is the best word for it. At times it definitely looked like the Sharks were more focused on gravy and stuffing tomorrow, not hockey. Other times, they seemed on the brink of regaining control, but couldn't quite get a handle on the Hawks. Their passes looked overly fancy but they were just sloppy. Nothing was connecting and it was clear the Sharks were struggling.
Toews scores his second of the night early in the 3rd, to put the Hawks up 2-1. It looked like it went of Blake's leg to beat Nabby.
JR had his own take on the spin-o-rama. It didn't go in, but it did look good.
Patty, after working hard in Hawks zone, ties it at 2-2.
Campbell was booed religiously all game.
The Hawks threatened many times before the final 20 minutes of regulation came to a close.
Overtime:
The Sharks won the face off, then things got a tad iffy. It looked like it might get real interesting when the Hawks turned the puck over to Jumbo Joe, who got it to Clowe. Clowe made a sweet pass back to Joe who slammed it behind Huet for the win less than a minute into OT. To say Joe had a look of Joy when he skated to Clowe after the game winner would be putting it mildly. To say I calmly celebrated would be a lie. I think you could hear me a cross town.
We thought the 1st star should have been Joe Thornton, as did Randy and Drew. 1st was Patty, who was still deserving, 2nd was Toews, who totally deserved it, and 3rd was Thornton. Boyle get my honorary 4th star for that amazing save.
Nabby looked pretty good. Toews beat him easily, but lucky no one else could. He did say he needed to find his legs, but he looked pretty sharp. He had some high praise for Khabibulin after the game, adding he was worried about him after he got hurt.
Chicago adjusted very well to the Sharks after the first. Credit where credit is due. It was Chicago's game to win, and for most of the last 40 minutes it looked like they would. Somehow, the Sharks managed to get the win though, and the stuff to be thankful for lines just keep on coming.
What a crazy game!
Sharks v Dallas on Friday on CSN plus.
Leave speculation on Grier's chances for suspension below. Goons seem to get off easy, regular guys, not so much. Grier claims to have not been going for a hit in them numbers, and he didn't intend to hurt anyone. Having watched him for a while now, I buy that. He really isn't a dirty player. That's not just me being a homer. Jamie Baker had a theory on why it was a 5 min major and so does Mina. Remenda disagrees with both their theories. Doesn't matter either way. The League will do what the League wants. There's really no rhyme or reason to it. Never want to see a guy get hurt from a hit. Looked like his arm. Hopefully he'll be back sooner rather than later.