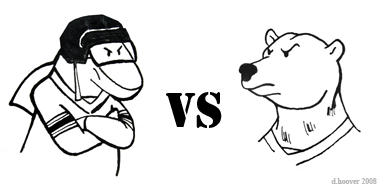 We eventually got around to the game last night, in time for most of the third. I only saw about 15-20 solid minutes of the game total, but in those 15 minutes I saw Clowe complete a Gordie Howe Hat Trick. Nice.
That Ehrhoff save was sick.
Having seen it go 1-0 Wild and then 1-1, I wasn't sure where the game would be in the third. Nice to see the Sharks at 3-1 to win it. Congrats to McGinn, getting his second NHL goal in four games. Maybe McLellan will keep giving you more ice time now, eh? Mike Grier (Mike Grier!) also scored, helping vault the Sharks to an 11-2-0 record and giving them the best record in the NHL. The Sharks are also unbeaten at home this season, a complete 180 from last year when they couldn't seem to win at home to save their lives at times.
So far, I'm liking the start McLellan era. As Jamie Baker says, not planning the parade yet, though. It's just two games into November, but I'm pleased with the trends I am seeing. The Sharks are finally looking like the team we all knew they could be. The team they
should
be. There are still kinks to work out, and there will be rough patches, (welcome to sports), but so far so good.