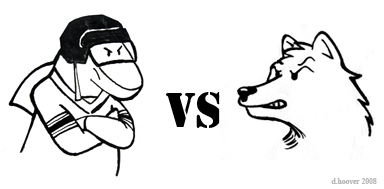 Last time the Sharks faced the desert dogs, they got the lead and proceeded to give it away, along with the win. No emotion, no drive to win the game. Hopefully they've learned from that mistake (and all the times they did the same thing with other teams in the seasons prior) and don't repeat the loss.
Possible factors tonight:
Jokinen, is out for at least two weeks.
Cheechoo left the game in the third last night and didn't return.
Tellqvist is hot hot hot and might start in net. Career wise against the Sharks he's 0-3-0.
The 'yotes have won back to back games coming into tonight.
Preview
here
.
Game time is 6pm, radio only.
Post game:
Well...that was...quite the game, wasn't it?
Anyone know what Rob Blake got 2 for unsportsmanlike conduct, 10 min misconduct and a game misconduct for at the end? Jamie Baker thought it was for chatting with the refs in a less than friendly manner. He guessed that, perhaps, due to the lack of calls for anything, Blake might have been expressing some discontent.
Bryzgalov was chased very early on, after allowing 2 goals on the 2 shots he faced. Tellqvist proved to be more solid for the Coyotes and helped keep the game tied until the third when Joe Pa put home the game winner. Go JoePa! Two goals in one game. Rob Blake also had a goal. Nabokov allowed two goals within the first five and a half minutes, but remained solid for the rest of the night.
Phoenix goals by Morris and Turris. Gotta hand it to Phoenix, they kept the Sharks in check most of the night. It seems like the Sharks are still trying to figure out how to play their game when they can't play the way they want to. Without a lucky shot by Joe Pavelski, these two teams might have gone to OT. OT is anyone's game. Thankfully, The Sharks found yet another way to win and took home 2 points in regulation.