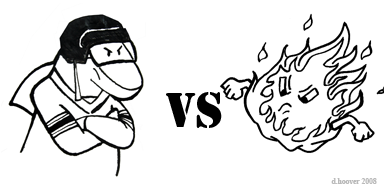 This is not a game I'll be able to keep my normal objectivity for. To put it simply, I don't like the Flames. Last year's seven game round one extravaganza was a nail biter of epic proportions. Not having to face them again for a season or so would have been fine by me.

Every time Calgary comes to town, people start talking about the Kiprusoff trade. As Mina so eloquently puts it, "He couldn't win a starting job. He went to Canada and came back a different man." That's pretty much all there is to it. Considering it's 2008 and that trade happened in 2003, the statue of limitations on freaking out about it has expired. Time to let it go.

Well, that was...awesome!
Sharks win 6-1. It was a pizza night for all at the Tank!
Milan Michalek tried his best to get a hat trick, but was held to two goals.
Joe Pavelski also had two goals. (Joe Pa!)
Patty and Big Joe joined in on the goal scoring party.
Sharks got four of their 6 goals on the power play. Hello effectiveness!
Ehrhoff and Blake both had three assists.
The Sharks D was on fire!
Boosh was fanatastic. I'm so glad we picked him up last season.