Can you believe this round is still going? The Hawks must be wondering if they should have dragged things out a little longer. 3/4 game 7s ain't bad. Home ice must be looking good right now.
Only one game 7 today and it's going to be a classic.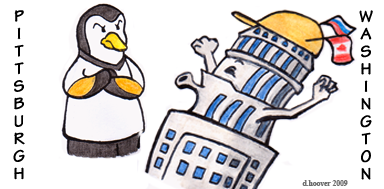 Today @ 4pm
VERSUS HD, CBC HD, RDS HD
Series is tied at 3
Much ado will likely be made over this being Crosby's first game 7 ever. I won't bother pretending I care. He can play. That's been established. Let's just let the game do its thing.

Recap:
Carolina didn't play well enough to put Boston away last night, and all the penalties they took didn't help either. The Ducks played like mad men and beat Detroit, much to the surprise of everyone. There was very nearly a tying goal in the last seconds, but Hiller found a way to stop it and allowed his team to force a game 7. His team then forced a elbow into someone's face. A fight ensued.