Only one game today folks, and it should be a doozy.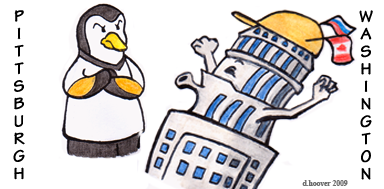 Today @ 4pm
VERSUS HD, CBC HD, RDS HD
Caps lead series 1-0
Weekend Recapage:
So what happened yesterday? I managed to some how be gone for all but the first period of a triple OT game between the Ducks and Wings. Ducks ended up winning that one. Fans paid for one game, and instead they got 2! Series is tied at one a piece.
Carolina put something bad (pig pox?) in Boston's water because they dominated the Bruins 3-0. Two equally one sided games to start this series. Who saw that coming? Series is tied at one a piece.