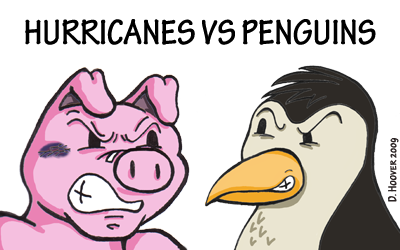 Today @ 4:30
VERSUS HD, TSN HD, RDS HD
Game 1. FIGHT!
I hope everyone enjoyed yesterday's guest art. Our guest artist was a little bummed no one commented, but I told him not to take it personally.
Conference Finals Recap:
So. Wings, huh?
I was really hoping the Hawks could take game 1,and for awhile it looked like it would at least be a battle. Then Detroit decided it was time to stop effing around and time to start pwnage. This is going to be a long Western showdown. I think I speak for everyone not rooting for the Red Wings/mutual annihilation when I say "Go Hawks."