Hey East coasters, you guys have a late night ahead of you. Time zones are fun! Both games are potential elimination games again tonight. Should be a fun evening.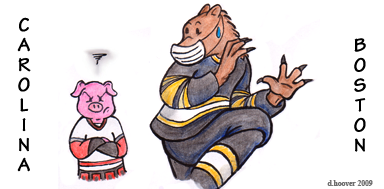 Today @ 4pm
VERSUS HD, TSN HD, RDS HD
Carolina leads series 3-2
That whole no suspension for Walker thing will likely be a hot topic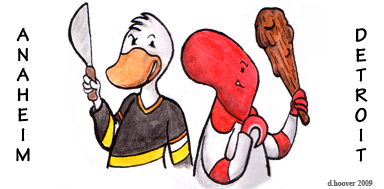 Today @ 7pm
VERSUS HD, TSN HD, RDS, HD
Wings lead series 3-2
If the Ducks force a game 7, I'm going to laugh.
Recap News:
Chicago eliminated Vancouver to advance to the WCF. There will be art for this later today, once Gray has gotten some sleep.
In a crazy OT game, the Caps stay alive to force a game 7. I'm not honestly sure who was more stunned, the Pens fans, or the Caps themselves. Judging by the reaction on their bench, I'm leaning towards Caps.
---
People have been finding this site with some
weird
search words. I mean weird. Many people seem to be interested in Kevin Bieksa. A few folks also came over from Fark. I'm not sure if I should be scared or amused. I'm pretty sure we were just mentioned in the comments somewhere over there. Either way, hello Farkers and Kevin Bieksa fans!