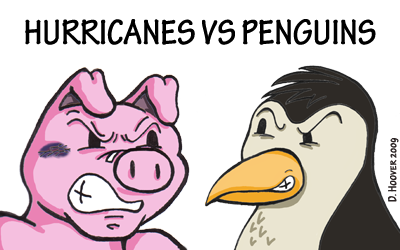 Today @ 4:30

VERSUS HD, CBC HD, RDS HD
Pens lead series 2-0

I thought this game was on at noon, but it's not. That would be tomorrow's game. I should have realized that TPTB would not find Pens/Canes anywhere near as sexy as Hawks/Wings.
Recapping the past:
Mina and I watched the first period of last night's game together. She arrived just in time to see the Hawks second goal and that ridiculous hit on Havlat. Dude was out before he hit the ground. Passing out with your eyes open is creepy. Having that happen with people above you who are wearing sharp blades on their feet? Dangerous. Someone smacked him in the head with their stick as he lay there, though it was unintentional and part of the scrum above him the occurred after he was hit.
To summarize our reaction to the hit, Kronwall left his feet. Fighting on top of the unconscious guy= NOT SAFE!
Even though Havlat should have been looking up, there's no excuse for leaving your feet. If he stayed firmly planted on terra firma, it's a clean hit. Brutal, but clean. Mina points out that while it was not interference, it was charging. Neither of us had a problem with the penalties handed out.
Like any fan would, we wondered what the reaction would have been from the media had Havlat taken out Kronwall.
You can view the hit
here
and make your own opinions. I just tried to watch Quennville's post game press conference reaction, and the audio for another Hawks video that wasn't even open took over and I got a very tinny, stuttering rendition of "Ring My Bell" cutting in and out between the press conference. The NHL video guys might want to look into not having Anita Ward and Joe Quennville playing dueling banjos. Just a thought.
Anyway, after that mess, we met up with some folks for dinner. We we got the the place of dining, the game was 3-0 Hawks. At some point I looked behind me and realized the 3-0 had become a 3-3. We were all floored, but sure enough, the Wings had scored 3 goals in the second.
Not really being able to easily watch the game from where we sat, we went on with dinner, Sharks talk, and general rostercourse when someone mentioned the game had gone to OT. Several of us turned around in time to see fans and Blackhawks alike hugging. Mina proclaimed the game winning goal to be the result of "...what we call a defensive breakdown, ladies and gentlemen." And so it was the the Blackhawks took game three in OT to make the series 2-1.