The second round wraps up tonight when the following teams take to the ice for at least 60 minutes of (hopefully) non stop action: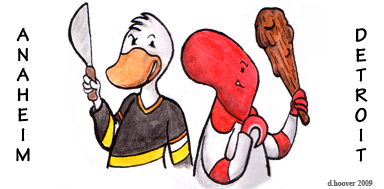 Today @ 4pm
VERSUS HD, CBC, HD, RDS HD
Series tied at 3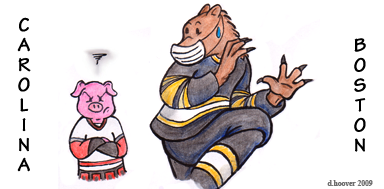 Today @ 5pm
VERSUS HD, RIS, TSN HD
Series tied at 3

Yesterday's game. A Recap:
A rather anti climatic end to what was the best series of the playoffs so far. The Caps got owned. I mean OWNED. At times I wondered if the Caps were ware it was a Game 7. Obviously not the night to have a bad game, but it struck them anyway.
Putting on a dominant performance, the Pens shut down the Caps and won themselves a seat in the Conference Finals. They'll play the winner of Boston/Carolina.
Gotta give a hand to the Caps fans, who, despite booing and jeering some of their guys earlier, gave a standing O for the face offs and stayed standing for the final minutes of the game, in full on cheering mode. Nice when to send your boys off. (minus the jeers)